So, you've just put "x" amount of hours into writing your company's latest blog post. Before even writing the post, you spent additional hours researching, outlining, peer-reviewing, and editing. With your blog post ready to be published, what strategies have you and your team devised to promote it?
Blogs are phenomenal ways to promote products or services. They're also great for flexing your thought leadership in a certain industry. Generally speaking, having a consistent blog posting schedule helps establish brand credibility and has a positive impact on your search engine optimization (SEO).
With a variety of social networks, advertising options, and email marketing tactics, there are more ways to promote your blog now than ever before. But with regard to time and budget, promoting your blog should be a strategic process. To help clear the confusion and get you on the right track, let's look at five actionable ways to promote your blog right now.
1. Optimize Your Blog for SEO
Before sharing your blog through social media, email, and other marketing channels, it's worth doing a basic SEO audit to ensure your content is searchable.
Start by marking off your low-hanging SEO checks. Conduct keyword research ahead of writing your blog and align your content with these keywords.
Your meta description should summarize your content in about 120 to 155 characters with keywords placed throughout. Have quality internal and external hyperlinks in your blog and format the anchor text of each link accordingly.
Break down your blog into concise paragraphs with clearly defined headings and subheadings to optimize your searchability and improve the reader's experience.
These are just a few of the many (over 200) ranking factors Google considers when indexing pages. Yes, you can go mad if you obsess over every factor, but make sure to at least hit these basics. For a more comprehensive look at SEO and your site's performance, you might want to consider an SEO software solution.
When it comes to content, 2,000 words for a blog post correlates with higher ranking pages. Aside from length, your blog needs to serve a practical purpose for the reader. Don't solely write to promote a product or service or satisfy search ranking algorithms. Educate your audience with actionable insights. If you only write to promote, your readers will eventually see through the 'sales pitch' and take their readership elsewhere.
From a technical standpoint, faster loading sites will rank higher in search engines. Sites with a clean layout that are optimized for mobile (hint: over 50 percent of searches are done on mobile) will rank higher as well. Google has also drastically stepped up its preference for sites with HTTPS security.
As a marketer, instilling these technical factors may not always be up to you, but consider having a conversation with your web developers before you risk losing traffic.
2. Consider Utilizing Organic and Paid Social Media
The amount of monthly traffic to popular social media sites like Facebook, Twitter, LinkedIn, and others alike is staggering. The ability to like, share, and engage with a piece of content easily is why social media has become an integral part of any B2B marketing strategy. Here are a few best practices for promoting your blog on the more prominent social networks.
Facebook - 2.8 billion monthly active users
Facebook is by far the largest and most common social network to share content on. However, it is worth noting that Facebook has changed their algorithm in recent years making it increasingly more difficult to grow your pages organically. That being said, just because it's become more difficult doesn't mean it's worth abandoning altogether.
Start by posting the direct link to your blog on your page. Facebook will automatically pull your blog's banner image, headline, and meta description -- so be sure to optimize that meta!
Use large images that fit well within Facebook's guidelines. This image should be vivid in color, visually appealing, and not overly branded to the point where users are glad to scroll past it. Explore more best practices for developing stunning social media graphics.
Because Facebook prefers images with minimal text, your caption should act as your call-to-action. For organic posts, try not to exceed 80 characters. A 2016 study by BuzzSumo analyzed more than 800 million posts and found that 80 characters or less yielded a 66 percent higher engagement rate. Keep your paid posts even more concise, at about 5 to 18 words.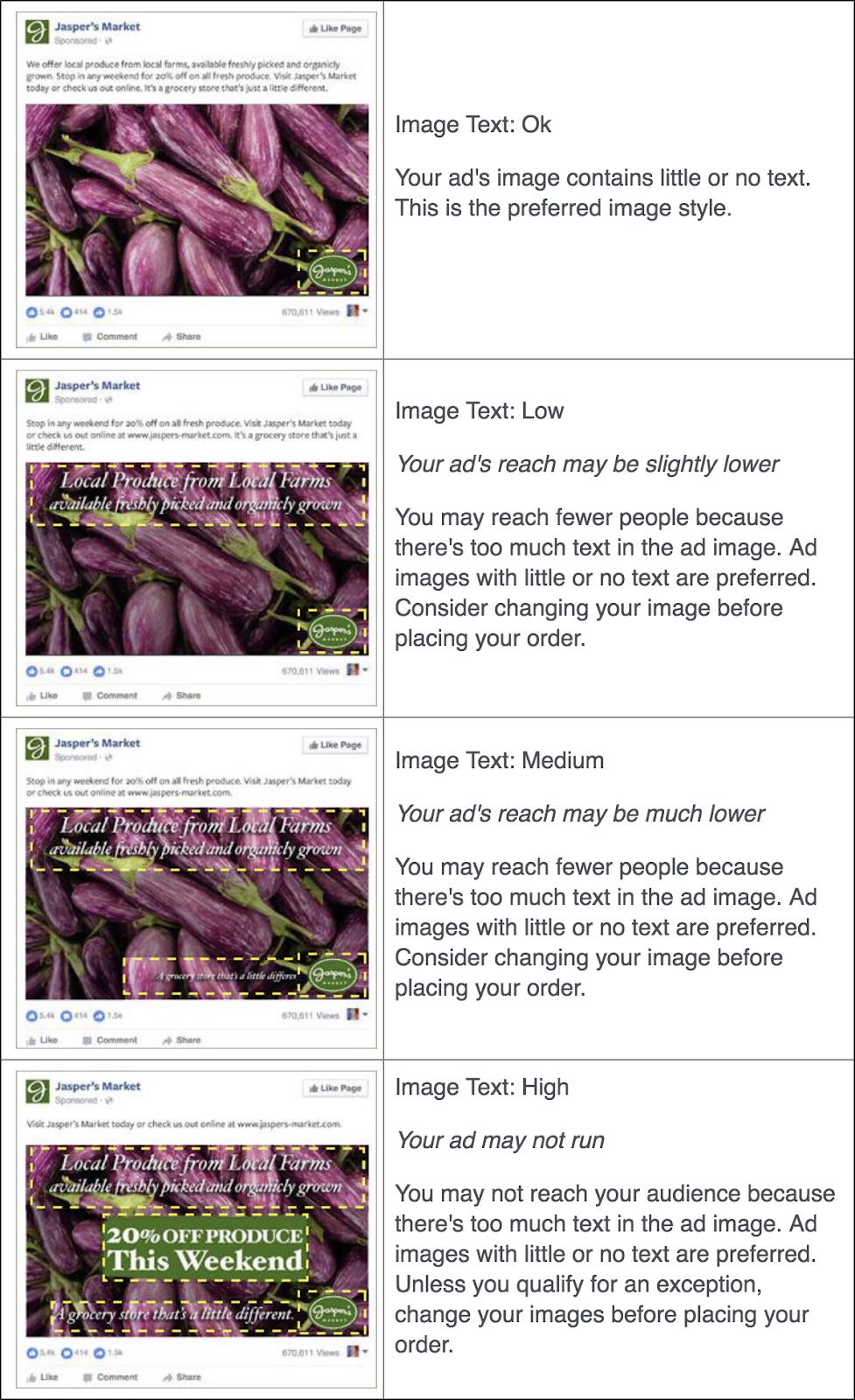 Image courtesy of Facebook
Paid promotion on Facebook, also known a 'boosting,' is a great way to expand your blog's reach -- but don't do so blindly. Utilize Facebook's insanely powerful targeted advertising features. User data on Facebook allows you to personalize your outreach based on location, demographics, shared interests, and even behavior. Pretty cool, huh?
Twitter - 330 million monthly active users
Twitter expanded its character limit to 280, but that doesn't mean you should use all of them. Keep it short and sweet when promoting your blog through Twitter. For both organic and paid posts, 71 to 100 characters yields the highest engagement rates.
For longer-form content or blogs that have subtopics with sufficient enough information, consider breaking them into three or four tweetable chunks. There's a dual purpose for doing this:
You don't overwhelm your followers with a single post.
You maximize the amount of exposure for your blog post while keeping the content of your tweets fresh and engaging.
Leverage relevant hashtags as well. This allows you to display your content to Twitter users outside of your followers that may share similar interests. If you're unsure of which hashtags to use, take a look at Hashtagify to find popular hashtags within your industry. In general, it's a good idea to use a mixture of both popular and less-popular hashtags. Popular hashtags are seen by many people but are more likely to quickly be booted to the bottom of the page as a high frequency of accounts are incorporating them into their tweets.
Since Twitter is one of the last remaining social media platforms that display content in chronological order, it's important to consistently push out content so it doesn't get lost in the timeline of your followers. Creating a multi-month drip campaign makes it easy to schedule tweets over a long period of time, making it easier for you to focus on creating new blogs.
LinkedIn - 310 million monthly active users
Although LinkedIn has a smaller amount of monthly users compared to Facebook, it's branded as the network for professionals. Promoting your blog on LinkedIn will expose it to readers who are more likely to find value or relevance with the content.
For both paid and organic posts, try not to exceed 25 words. LinkedIn cuts off posts at the 140 character mark, prompting users to "See More." This can have a small yet noticeable effect on your engagements.
LinkedIn has drastically overhauled its platform in recent years. What was once considered a place to host your online résumé has now become a place where thought leaders can share their expertise on a certain topic.
Back in 2017, LinkedIn gave users the opportunity to share native videos with their connections. While this may seem odd for a site geared towards professional development, it's certainly something to take advantage of. LinkedIn has updated their algorithm to prioritize posts that include videos; thus giving you the increased likelihood of being displayed higher in other user's feeds.
Leverage your connections on LinkedIn as you would with an email marketing campaign. If you think your most recent blog could be of interest to a connection, send them a personalized direct message with the post. They may be intrigued enough to share it with their network or reach out to you to talk more!
LinkedIn has also made hashtags a useful feature on its platform. Utilize hashtags the same way you'd use them on Twitter.
At the end of the day, the best strategy for maximizing your visibility on LinkedIn is to be actively engaged within the community. Set aside a half-hour each day to comb through your feed and leave thoughtful comments on posts that you find interesting.
Keep in mind that social media will only work if your target audience can be found on that platform. So, before heavily investing into them, make sure the people you are trying to reach can be found their. If not, you'll likely waste time and resources for nothing.
3. Email marketing
Email marketing can be a great way to reach your audience when properly implemented. According to a McKinsey iConsumer survey report, email is up to 40 times more effective for customer acquisition compared to Facebook and Twitter combined.
Facebook, Twitter, and LinkedIn see less than a .6% engagement rate while emails have an average open rate of 20% and a click-through rate of more than 3% -- talk about a night and day difference!
Email marketing has been traditionally used for product marketing and lead generation, but promoting content and educating your subscribers through email has proven to be effective. Email is also great for spreading awareness of your brand and nurturing relationships with those on your outreach lists.
It's important to note that in order for email marketing to be effective you must build an expansive email list of people to include in your newsletter. Here are a few different methods that you can do to expand your subscriber base:
Offer a discount for readers who sign-up for your newsletter
Host a giveaway of your products or services requiring an email to enter
Add a CTA to subscribe on relevant pages
A general rule of thumb when conducting an email marketing campaign is to personalize the message for your reader. Try including the subscriber's first name in the subject line. This has shown a 16 percent higher open rate and is more actionable than "Dear valued customer..."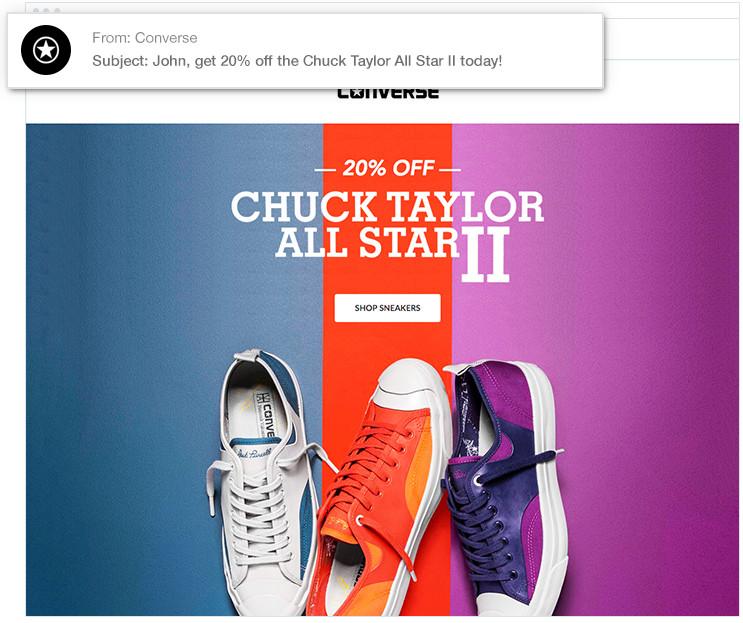 Image courtesy of Converse
Be sure to segment your subscribers based on the relevance of the blog you're pushing out. For example, if you're a software solution company and just wrote a blog on the uses of artificial intelligence (AI) for enterprise applications, it probably works against you to send that out to your small business subscribers. Focus on personalization.
Depending on your company size, industry, existing outreach lists, and other factors, select an email marketing software tool that's right for you.
Finally, it's important not to bombard your subscribers with too many emails. This is a sure-fire way to rack up unsubscribers. Focus on producing quality content that your readers will look forward to hitting their inbox rather than pushing out tons of emails and hoping that one or two converts. Aim for no more than one email per week.
4. Native Advertising Performs Best
Native advertising is objectively the best way to advertise on the web and mobile today. According to research by IPG and Sharethrough, consumers are 53% more likely to engage with native ads compared to banner, display, or interstitial ads.
A native ad is a type of ad that fits perfectly within a sitemap. The benefit of native ads is that they aren't as intrusive compared to other digital advertising options, thus, not compromising the user experience.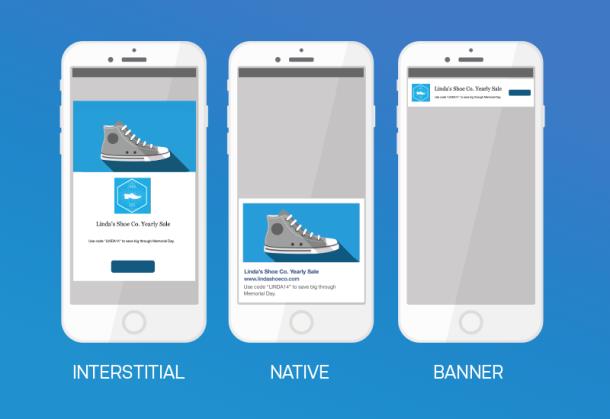 Image courtesy of AdRoll
Like email marketing, you'll need to find the right native advertising software solution before implementing your content. This software will allow you to A/B test with different images, headlines, and copy. This is also a great time to see how well your ad fits within the rest of a website to ensure the reader doesn't have a jarring experience.
One tip I can provide you as far as native advertising is that readers don't want to be deliberately sold to. Write the copy of your ad coming from the perspective of an educator, rather than a marketer or seller. This is especially true when promoting a new blog post. Keep in mind that most people are on social media for entertainment. If your campaigns can entertain and educate your audience, you've perfected the ideal ad.
Not all native ads are created equal and each website will have different options for displaying them. But if you have a thorough enough budget set aside, native advertising can be an effective way to market your content.
5. Post on Q&A Forums
I can already hear the Q&A purists shaking their heads at this one, but bear with me. Forums like Quora, Reddit, Yahoo! Answers, Stack Overflow, and others have become increasingly prominent channels to educate the masses.
Let's be clear, the purpose of forums aren't to solely promote one's blog, website, product, or service. You should use forums as a more informal way to build a personal following, establish credibility and industry recognition, and educate readers with concise, quality answers.
That being said, the more active you are on a forum, the more leeway the community will grant you when it comes to slowly 'plugging' your blog or content pieces as a more detailed analysis of what someone is looking for. Quora gives you the opportunity to have a headline displayed on every one of your answers, use this space to subtly mention your blog or company and what you do there.
For example, if someone asks, "Who can give me an honest answer as to which CRM solution works best for them?," you can follow up with the CRM your company currently uses, its usability and basic features, and other options you're aware of that may be relevant to them.
Depending on the open-endedness of their question, you might also suggest something like, "We have a few informative blogs detailing CRM solutions for small businesses and niche industries, much like what you're describing." This is one strategy that works well for C-suite executives and influencers.
Keep an Active Blog
Seriously, how likely are you to engage with a company that hasn't posted a blog since 2013? My guess is highly unlikely.
Blogging and content marketing is invaluable to companies of all sizes. Aside from being consistently indexed on search engines and increasing website traffic, blogging helps humanize your brand.
Posting with the intent of educating your reader can create lasting, meaningful relationships. Even if a reader never converts, they can be a continued advocate for your brand and share the value of your content with their networks.
Maximize Your Time
One of the biggest issues that bloggers face is trying to balance their time between promoting existing content and developing new content. Incorporating the use of a tool like Missinglettr makes it easy to schedule months of content in advance. What would normally be a daily activity can be condensed into one afternoon a week, leaving you more time to focus on the development of your next blog. Try a free 14-day trial today.