The hardest part of being a blogger is getting people to come to your blog and read what you have to say. There are thousands of bloggers out there all vying for eyeballs. The people that are attached to those eyeballs are busier than ever. They have time for a cursory scan of their social media feeds while they're standing in line at the supermarket, and then they pay for their groceries and get on with their day.
And you're one of those busy people. I am too. I am an author. I have a full time job. I want to also have a life where I enjoy my friends and my hobbies. As a blogger, I want to offer readers an opportunity to get to know my product—my writing. Once they've sampled the goods on my blog, I want them to purchase my novel. I post a blog entry at least once per week, typically on Mondays. I post it to Twitter and my author page on Facebook just hoping that my followers will click and read it.
Then I check my Google Analytics and see that very few people read it. I couldn't even say that I had tens of readers. My readership was in the single digits. Not exactly what you'd need to build a career as a successful novelist, right? The reason why my readership was in the single digits is because I learned that you can't just post a blog entry once and expect a roaring response to it. But this is what I was doing for months. And I'd wring my hands and wonder why I wasn't getting higher traffic numbers.
How Missinglettr helps
One post on social media isn't enough. Not even close. This is where Missinglettr comes in. The basic idea behind it is that Missinglettr will set up a drip campaign for each blog post that you publish and then send the campaign content out to your social accounts over the course of a year.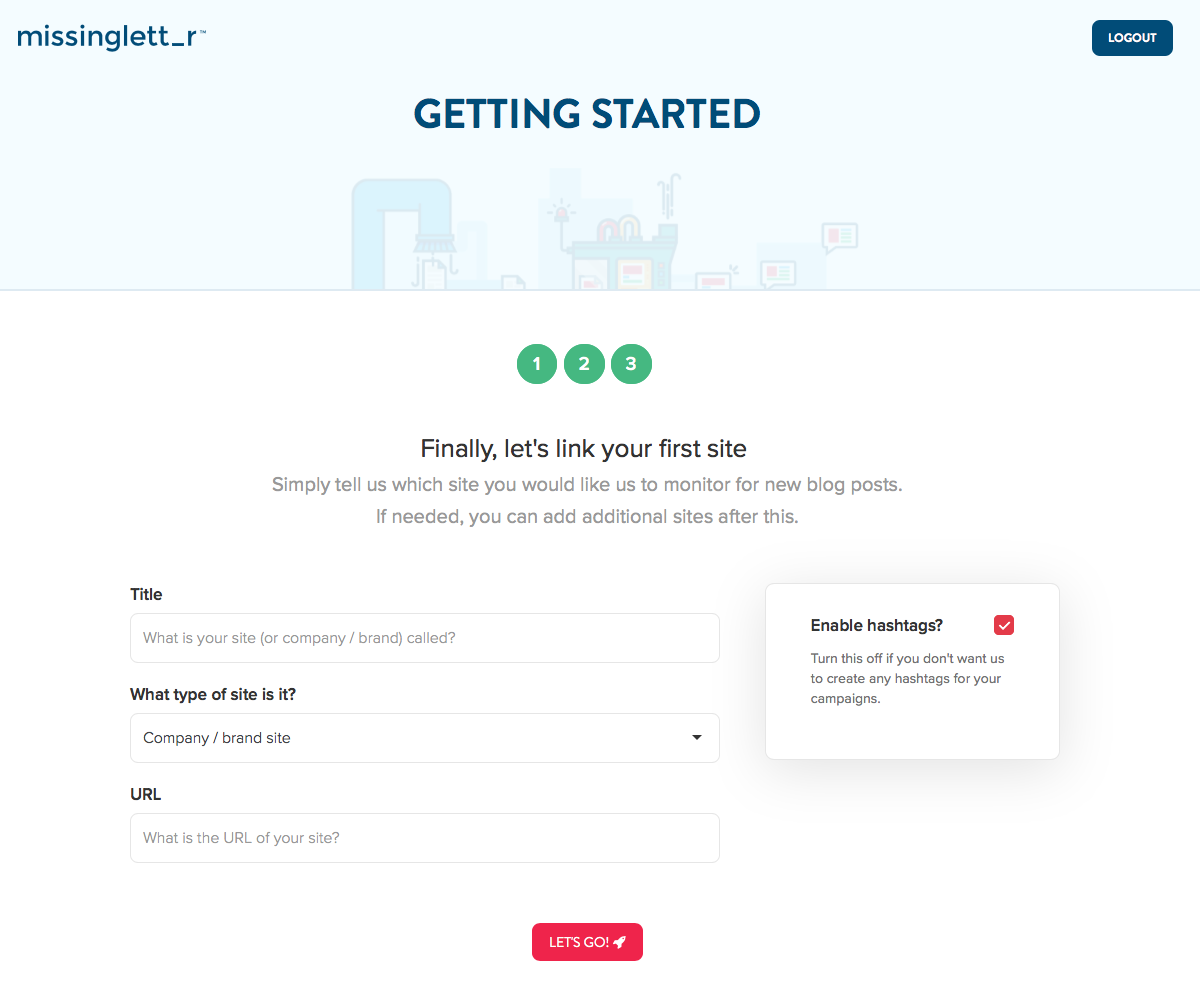 Setting it up is easy. When you set up your account at Missinglettr, you send them the RSS feed for your blog. Once they detect that you've posted a new blog entry, they'll create the campaign for you. The campaign consists of graphics Missinglettr will create for you that contain excerpts from your blog entry. Then they compose a sequence of tweets based upon excerpts and interesting phrases.
Missinglettr also has a hashtag generator. Remember, hashtags are important! It's how you can insert your blog entry into the vast network of conversations occurring on Twitter. Missinglettr will present you with a list of generated hashtags to choose from.
The first thing I do is review them to ensure that they are relevant. For example, on a blog entry I recently wrote about losing weight, one of the recommended hashtags was #thigh. I didn't think this was a very descriptive hashtag. So I removed that one and added ones like #quickworkout, #22minhardcorps and a few others. Why use thigh, when I could use something that people would actually search on Twitter, like for a quick workout. Who doesn't want a quick workout, right?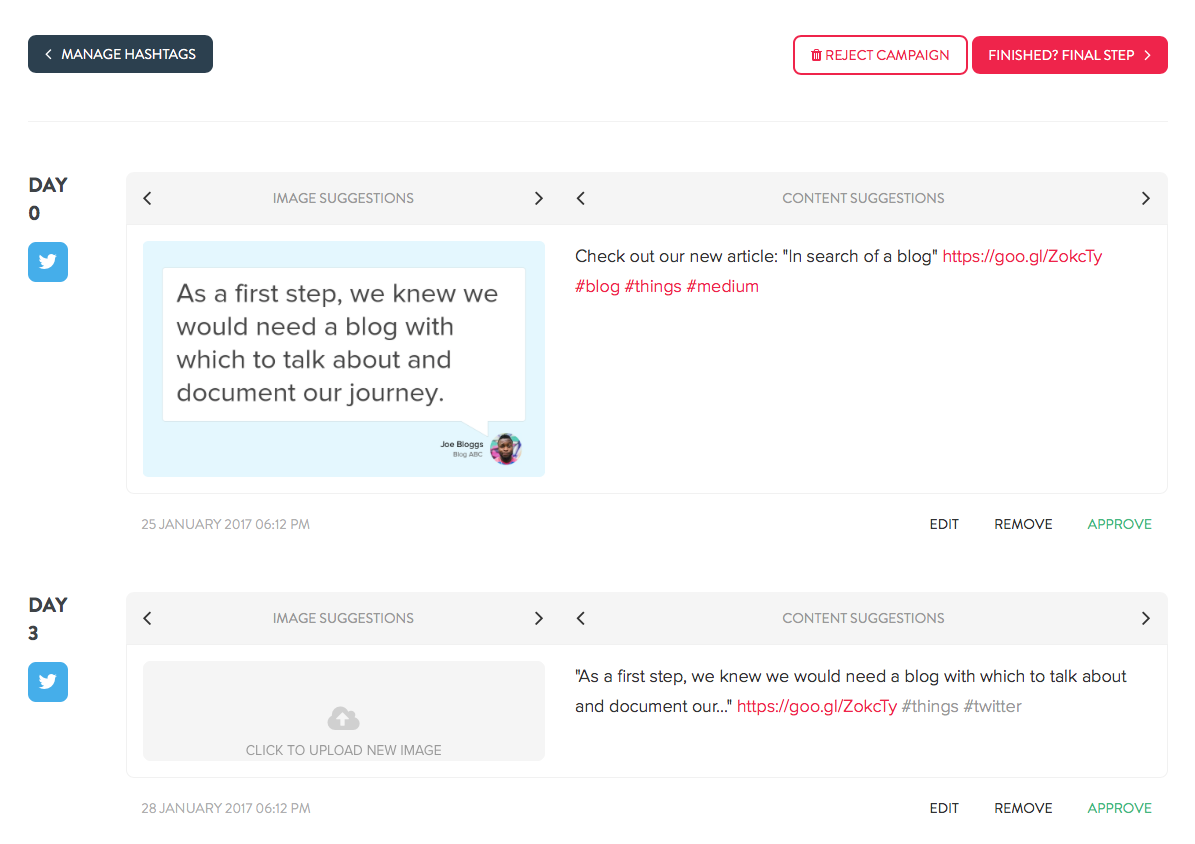 Then I go to the next screen where I have the opportunity to review every tweet that Missinglettr recommends for the campaign. I am able to toggle through a dozen or so graphics that contain excerpts from my blog entry, and pick out the one I like best for each tweet. I can then cycle through a dozen or so different tweets and pick my favorites from those as well. Each tweet contains a shortened link to my blog post, as well as the hashtags I selected.
Approving the entire campaign takes me a few minutes. In this short amount of time I am able to set up an automated campaign that will post nine tweets over a 12 month period. This means that we have nine potential opportunities for my followers to be exposed to my work. If I am writing a blog entry every week--assuming I miss a few weeks here and there for vacations, procrastination, day job deadlines, and naps with my dogs—let's say I produce 40 blog entries in a year. With Missinglettr I am sending out 360 possible tweets—that's 360 possible exposures to potential readers.
So, let me ask the question again. If you are a blogger, why aren't you using Missinglettr?