As a blogger, you put so much time and energy into crafting the perfect blog post. Unfortunately, after you hit publish, your work is really just beginning. Now that you've pushed your article out to the world, you have to figure out how to get the world to come read it!
There are so many strategies you can implement to drive traffic to your website, but you have to be mindful of which activities will be worth your time by getting you the results you need. One of the most effective ways of bringing new readers to your blog is by distributing your content.
Curate is the newest Missinglettr add-on that gives you the power to curate external content on your social feeds and promote your blog posts to a wider audience. Today, we'll go over how to promote your content and drive traffic to your blogs using Curate.
Why use Curate to promote your blog?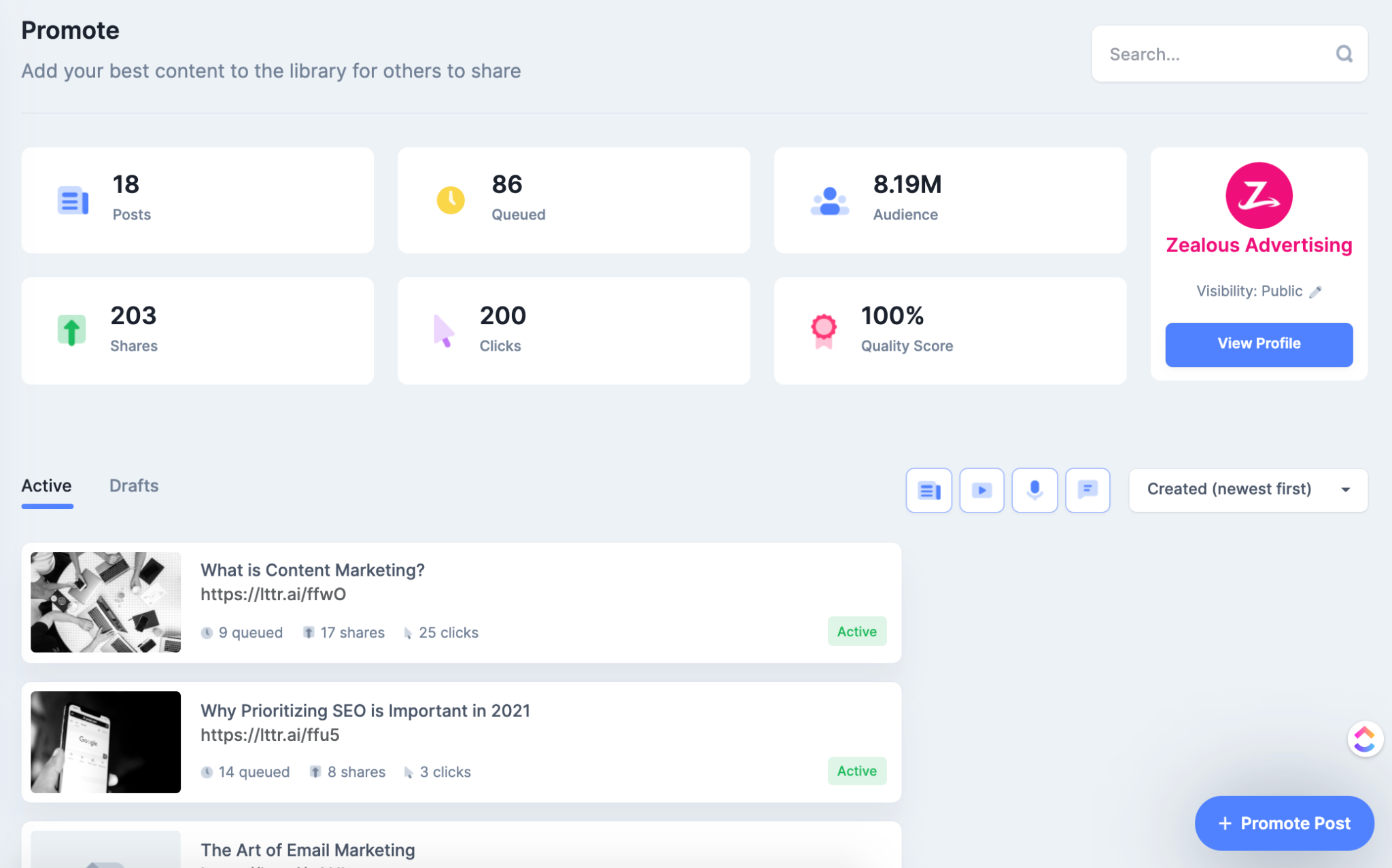 Having others share your content is essential to broadening your reach. When people post your blog on their social profiles, you have the opportunity to reach a much wider audience than you would on your own. Additionally, each time someone shares a link to your website, you gain a social media backlink which can help you improve domain authority and increase Google search rankings.
Best Practices for Distributing Your Content
In order to see the best success from promoting your content on Curate, there are a few best practices you'll want to keep in mind.
Include a High-quality Image
Just like you want to use great visuals on your social media pages, others want to as well. Including great, relevant graphics will help catch the attention of users on the platform and will increase your likelihood of sharing. It's also always a good idea to use high-quality images in your blog posts. If you're not a professional photographer, turn to tools like Unsplash and Pexels for royalty-free images.
Use Lead-in Copy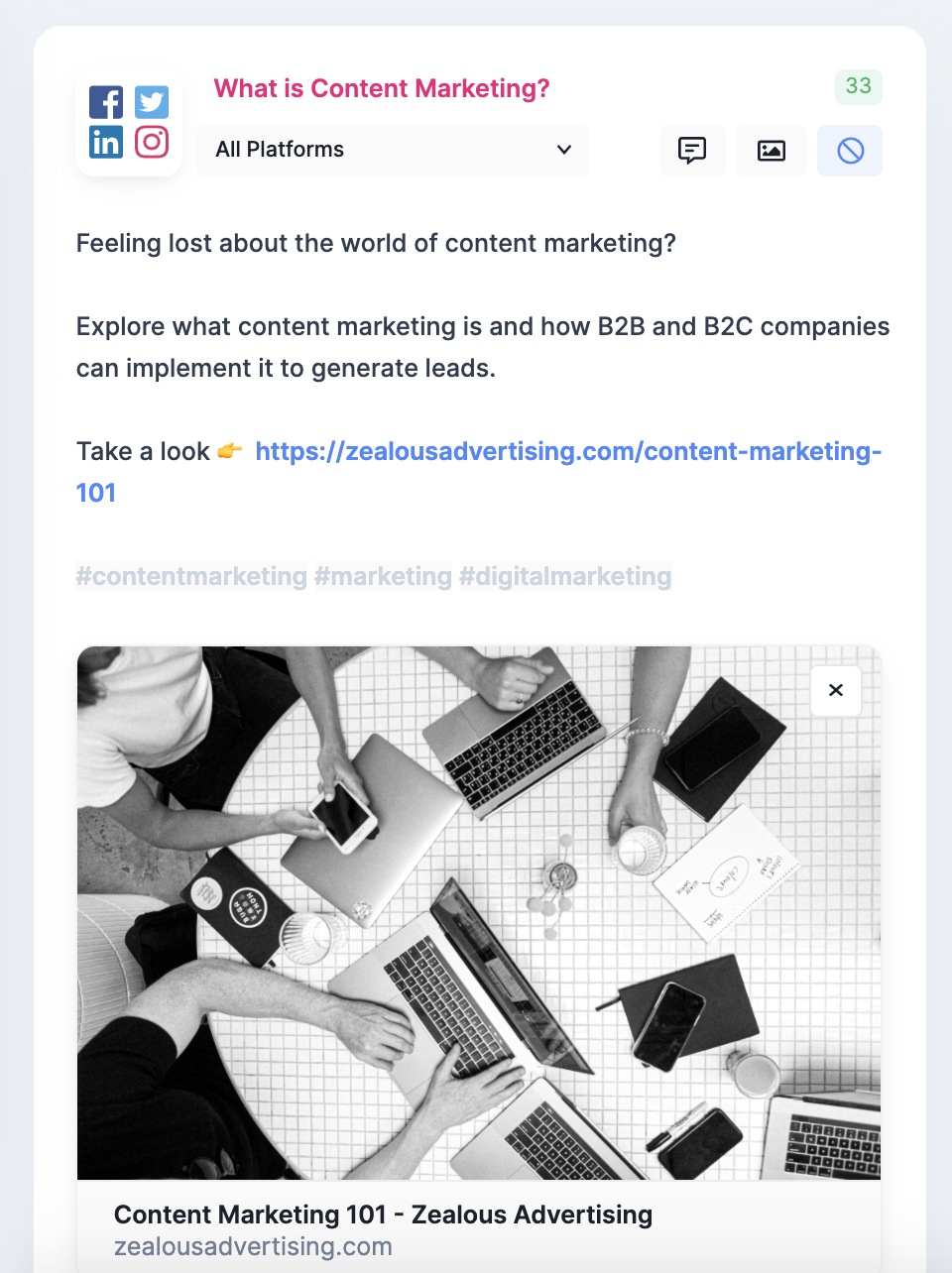 Don't just include the title of your blog post and a link. This isn't a very compelling post and while it may get shared, it won't get clicked on. Instead, add a sentence or two compelling readers to click on the link. Remember that this will be shared by someone else so avoid first-person language (my/our/we).
Tag Responsibly
You should only use relevant tags and categories in your posts. It's a good idea to opt for more specific categories over general ones wherever possible.
Add Hashtags
Hashtags are key to reaching a wide audience on social media. While the profiles sharing your content may already have lots of followers, you'll be able to extend your reach even further by including 2-3 relevant hashtags in each post.
Adjust Content for Each Platform
Just like you should share different posts on each social media platform, you'll want to provide different versions of your content for users to share. Use more formal language on LinkedIn, but be a little more personable on Facebook.
Consider tagging your business account in Twitter and Instagram post copy so you're alerted when the post is shared. This way, you can like the post, thank the publisher, and engage with them further.
Optimize Your Profile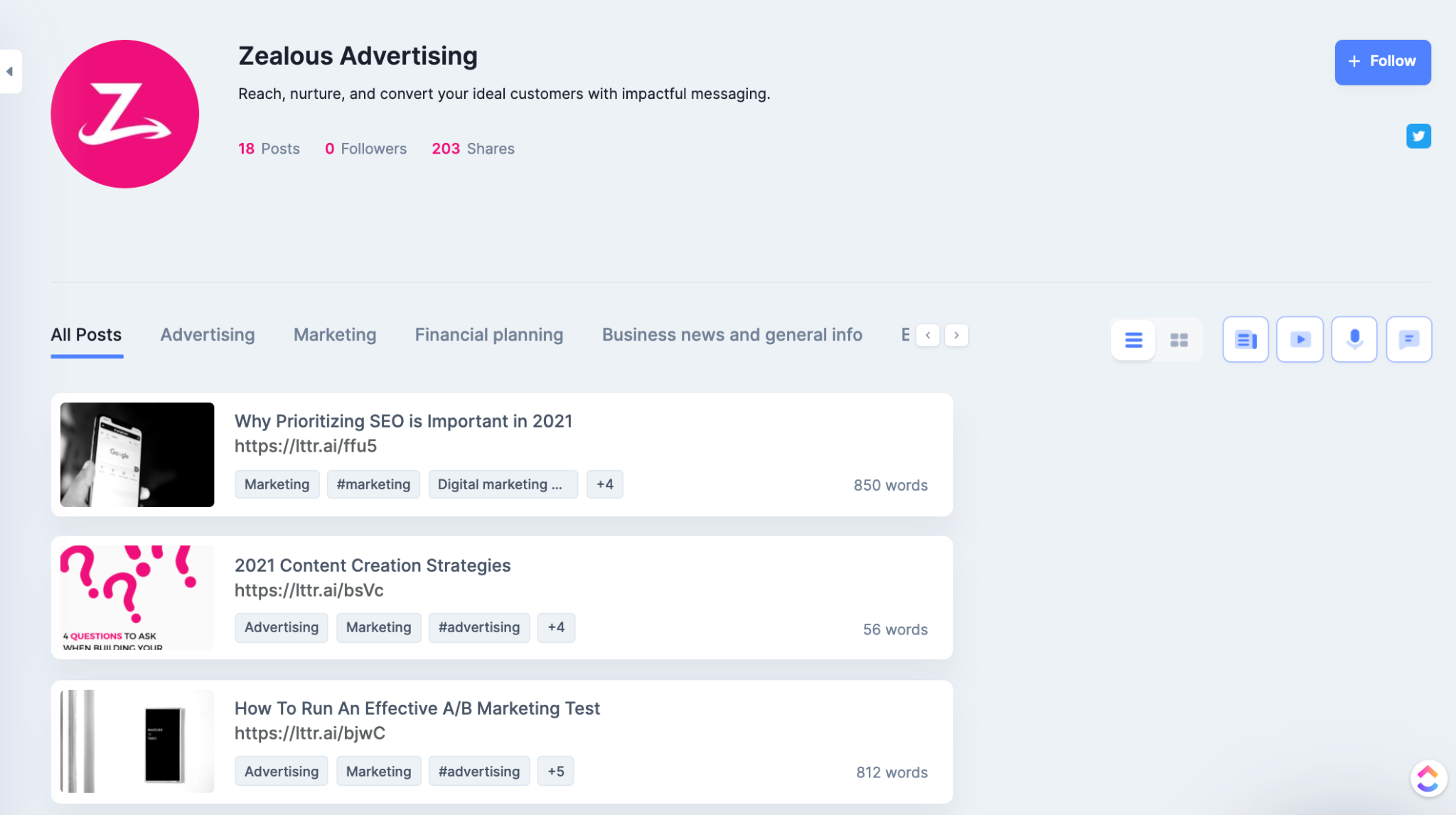 Set up your Curate profile with your website and social media links so others can follow you to find out when you add new content to the library. Including links to your pages is also helpful for SEO since you'll be building valuable backlinks.
Analyze the Results
Review the results of your curated content to determine which articles perform the best on the platform. Looks for trends in copy, imagery, hashtags, and categories. Test out a variety of strategies to find what works best.
Get Started with Curate for Content Promotion
Curate makes it easy to get your content in front of a wider audience of relevant individuals. Use Curate to promote all your posts and begin driving exponential viewers to your website. Next time, we'll discuss best practices for using Curate to share external content on your social media pages.
If you have an existing Missinglettr paid plan, you already have access to Curate and can begin sharing your posts right away. If you're new to Missinglettr, get started with a 14-day free trial of Curate.