A strong blog is a crucial facet of an effective content marketing strategy. By educating your audience on industry and relevant topics, you can build their trust over time. However, much like how an incredible blog can drive new sales, poor content can push potential buyers away.
Use the best practices below to develop high-quality blog content that turns passive readers into avid brand advocates.
Start with your audience.
One of the biggest mistakes businesses make is trying to make their blog all about themselves or their product. In reality, your audience should be the focus of your blog.
Consider what questions your target buyer may have surrounding your offerings or in their day-to-day life. Use your blog content to answer those questions and show off your expertise. For example, a mechanic would do well writing blogs like "How Often Should I Rotate My Tires?", "What to do When My Check Engine Light Comes On?", or "Do I Really Need to Change My Oil Every 3,000 miles?". Since their audience likely is already wondering the answers to those questions, there is an excellent opportunity to provide answers and become a trusted source for information.
At the end of each blog, you should include a small call to action encouraging readers to call, email, or schedule an appointment. You can also lightly mention your product or service within the blog, but neither should be distracting or aggressive. The goal of each of your blogs should be to provide value to your audience, not sell your product or service.
Do keyword research.
Once you know your audience and what you want to write about, you need to do keyword research. It's best to do keyword research before you even start writing your article so you can incorporate keywords into your content organically.
Figure out how your audience would be searching for your content. Try to use the same terms they use in the same way they would ask a question. Use a tool like SEMRush to verify your assumptions and find additional keywords. You want to identify frequently searched keywords that don't already have too many authoritative (well-ranking, strong content) results which would block you from ranking well in search results
Once you've identified 3-5 target keywords, use them when you're writing your blog. While keyword stuffing (jamming as many iterations of the phrase into your blog as possible) is no longer accepted, you should still organically incorporate your target keywords throughout your content. Remember, using keywords in headings and hyperlinked texts holds more weight than just body text.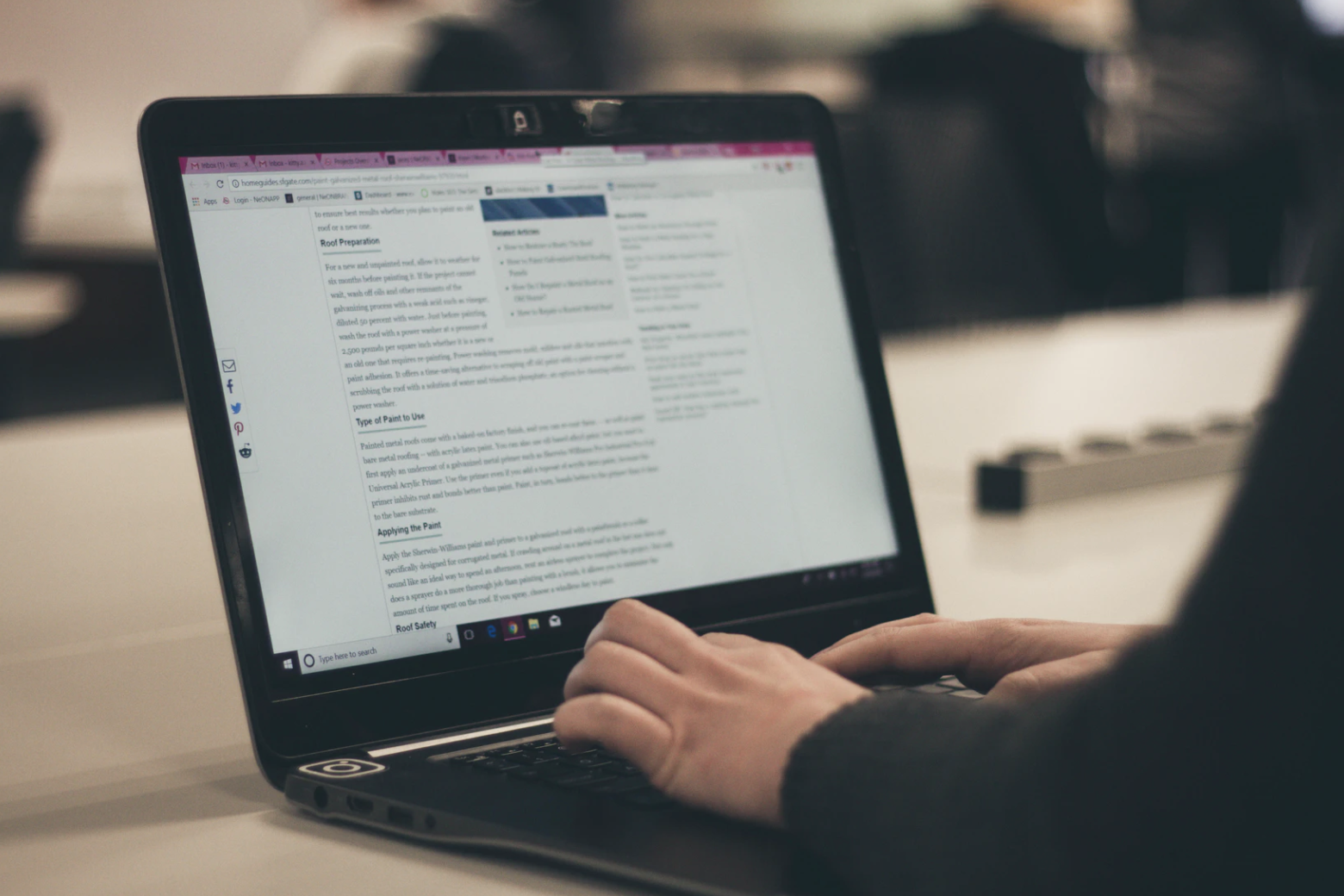 Write your content.
Once you've selected a topic that will be of high-value to your audience and found the keywords you'd like to target, it's time to start writing. Hopefully, you have a good deal of knowledge on the topic if it's related to your business. If not, be sure to do thorough research and double-check any sources. There's nothing worse for your brand's reputation than sharing misinformation.
If you do research, be sure to take your notes separate from your final work and always cite any sources you utilized. Be careful not to pull content directly from any sources and don't copy and paste unless you're quoting someone. Not only is plagiarism disrespectful and wrong, but it will also ultimately hurt your SEO and website's reputation.
Blogs should be at least 700 words and well-formatted so they're easy to read for viewers. Utilize bullets, lists, graphics, and subheadings to break up text and make your content more comprehensible.
Edit your blog.
If you have a colleague or editor who can edit your work, fantastic! It always helps to have a second pair of eyes when looking for errors. If your colleague isn't well-versed in your content goals, be sure to give them a set-list of criteria to look for (we even made you one below).
If you don't have a colleague or editor that can help you out, wait at least a day before returning to your work. Once you are ready to edit, check for the following:
Grammatical errors and typos. Use the spell-check feature on your writing program to catch as many mistakes as possible. Grammarly is a more-advanced spelling checker that can be beneficial for writers who edit their own work.
Missing and broken links. Be sure to check all your links to make sure they go to the right page. If you cited any research and didn't include a link, be sure to go back and link the source.
Keywords are logically incorporated. Ensure there are a variety of keywords incorporated throughout the blog in body copy, headings, and hyperlinked text.
Places to add imagery. When you're editing your blog is an excellent time to think about what images you'd like to add to support your content.
![edityourblog](https://missinglettr-media.s3.amazonaws.com/blog/article-images/edit+your+blog.png"edit your blog")
Add high-quality images.
Nothing is more boring than a page of just 1,000 words. Worse than boring, you'll probably scare your readers off. High-quality images are a great way to supplement your content, visualize what you're talking about, and drive reader engagement.
It's not as easy as just grabbing any pretty image from Google search, though. Be sure to confirm that a copyright policy doesn't restrict any image you use. Some great free resources for unlicensed photos you can use in your content include Unsplash and Pexels.
Don't forget to promote your blog!
Once you've written an excellent, search-engine-optimized blog with high-quality images and posted it, it's time to start promoting your work. Use your company newsletter or email lists to share new content, and be sure to promote on social media as well.
Instead of worrying about finding previous blog content to promote on social each week, try using a scheduling tool to batch your social media content. Great blogs can quickly be promoted for a year, as long as the information stays relevant. Missinglettr automatically scans your new blogs, creates a year's worth of promotional social content, and schedules posts.
Revisit, revamp, and revitalize overtime.
Writing a great blog post takes a lot of effort from research through publication. Don't let your hard work fade away after a few months. After a year or so, go back and review your top-performing posts. Update any old links, add additional content, and refresh imagery. From there, you can republish your blog, promote it on social, and get another year out of it!
Grow your business with a strong blog.
Content marketing can be an incredibly effective tool for growing your business when implemented correctly. Use the above best practices to optimize your content and get the most out of your efforts. Check out our tool today to further streamline your blogging outreach.