Sometimes it can be hard to create tons of content on your own. As a social media manager, you may spend all of your time brainstorming and creating content. This can make it hard for you to take on other tasks and you'll certainly run into creativity roadblocks from time to time.
One effective way to overcome those challenges is by taking advantage of user-generated content. Leveraging user-generated content can be an effective way to build out your content calendar, build social proof, and drive engagement. Discover what user-generated content is, its benefits, and how to leverage it in your social media marketing efforts.
What is User-generated Content?
User-generated content (UGC) is any content that is created by your users or customers. This can include product reviews, videos, and photos. Content can be text-based or media-based and will often vary significantly in quality.
You can access this content from review sites, social media sites, or communications with your users. If you plan to leverage media content or include a customer's name, be sure to get permission before resharing content anywhere.
What are the Benefits of Leveraging User-generated Content?
There are a variety of benefits to leveraging user-generated content. In short, it makes your life easier as a social media marketer.
To dig deeper, you can leverage user-generated content to fill out your social media calendar without having to create new content yourself. Additionally, this is a great way to diversify your content. If you always create text-based content, it can help to have photos, videos, or other visual media from your users.
Another benefit is building social proof. Seeing others enjoy your product and talk about you has more impact than you talking about yourself. Consider that your users likely have an audience that's larger than your own. Encouraging user-generated content is a great way to reach that broader audience and affirm your value.
In addition to building social proof, utilizing UGC helps reinforce the notion of solidifying your brand within its user base. If a user is recognized by a company's official social media account, they are likely to feel a heartfelt connection with the brand.
Finally, user-generated content is invaluable for driving engagement. This is because your users are more likely to engage with the content they created. Similarly, users are likely to post about your brand if they know they have a chance of being re-shared by your team.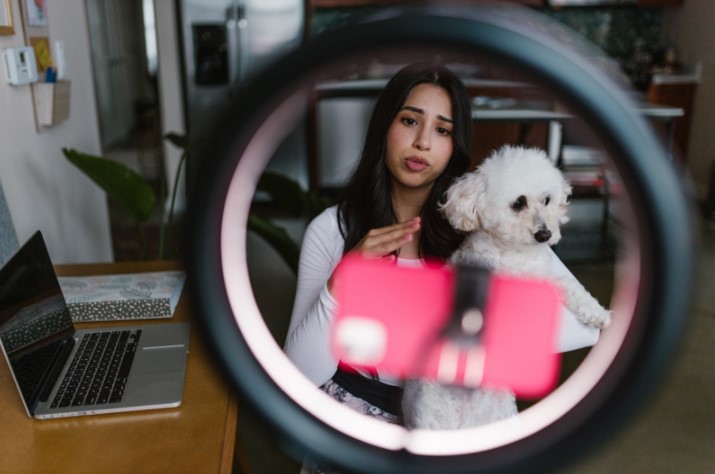 How to Gather User-generated Content
The best way to gather user-generated content is to ask for it! Include an ask in your confirmation or purchase emails and in your product packaging Many people will be happy to snap a photo or share a review with a simple reminder.
You should also watch your social media mentions and review sites. In fact, you may already have plenty of content to pull from and not even know it.
It's worth remembering to always reach out to the user posting the content and ask if they're okay with your company to reshare the content. Furthermore, always give credit to who created the content.
Lastly, share user-generated content. When people see that they have the chance of being featured, they'll be more likely to share content and it serves as another reminder for your loyal followers who may not have thought to create a post on their own.
How to Leverage User-generated Content
There are a few ways you can leverage user-generated content. The easiest way is to use it to fill in gaps on your social media calendar. Spend a day each month compiling user-generated content and scheduling it for days you don't already have posts planned for.
Another strategy is to use it to drive conversions. Consider including reviews or user posts in your email nurture campaigns, newsletters, and social media ads. Since user-generated content is so impactful for engagement and social proof, using it in this part of the sales cycle can be especially effective.
Spice Up Your Social Calendar with User-generated Content
User-generated content can be a powerful tool in your social media marketing arsenal. In fact, you may already have plenty of content at your disposal you haven't yet taken advantage of.
Missinglettr makes it easy to add user-generated content to your social media calendar. Just gather your content and schedule it for publishing on future dates. Learn more and try Missinglettr for free.